Essentially and in the truest sense Shahidullah was an individual. This individuality marks all his writings both linguistic and literary. He wrote extensively on various subjects. He used to contribute his articles to the leading journals of his time. His first essay in Bengali showed such an originality of approach as was then never expected from any other Muslim writer young or old. In 1909, the Bhāratī the most prestigious literary journal of the time, published his article, Madanabhasma, showing his exceptional knowledge and a deep understanding of Sanskrit literature.1 The editor of the journal, Swarnakumari Devi (1855-1932), was very much impressed by the quality of the article. Shahidullah observed :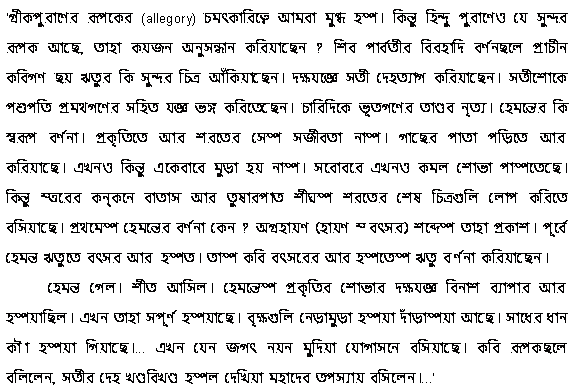 Publication of this article gave Shahidullah the filip to write more on literary themes.
From his early student life he was closely associated with many academic organisations. He was a student-member of the Bangiya Sahitya Parishad. Most of his early as well as significant articles were read in the monthly meetings of the Parishad, and were subsequently published in the journal of the Parishad. The articles published               in the journal of the Parishad are : Bāngālā Śabdakoş Sambandhe Ālocanā (1325 B.S.), Ārbī O Phārsī Nāmer Bāngālā Lipyantar (1325), Bauddha Gān O Dohā (1327), Bāngālā Bhāşāy Anujñā (1331), Kabi Saiyad Aiāoler Padmābatī (1331), Saiyad Aiāoler Granthābalīr Kālnirņay (1333), Bāngālā O Tāhār Sahodara Bhāşāy Bartamān Kāler Uttampuruş (1337). Badu Caņdidāser Pad (1343). Bhusuku (1348), Bauddha Gān O Dohār Path Ālocanā (1348), Śrīkrşņakīrttner Kayekti Path-blcar (1348), Siddhā Kānupār Dohā O Tāhār Anubād (1349), Caņdīmāngaler Ekti Puthir Paricay (1349), SamskrtaO Pārsī (1350), Jelā Cabbiś Paragāņār Upabhāşā (1351). Haihay-Kuler S'ayyata-s'ākhā (1354), Vidyāpatir Padābalīr Samskaraņ (1360), Gorakşabijayer Racayitā (1360). Prākrta O Bāngālā (1363), Peyarśāh (1367).
In 1911 he founded the Bangiya Musalman Sahitya Parishad in association with Md. Mozammel Haq, much after the pattern of the Bangiya Sahitya Parishad.2 The founder-president of the Parishad was Maulavi Ekinuddin Ahmed. Shahidullah and Muzaffar Ahmed were the Secretary and Assistant Secretary respectively. In 1915 Shahidullah was replaced for a short while by Maulavi Abdul Karim though in 1917 he was again became as the Secretary.3 The office of the Bangiya Musalman Sahitya Parishad was at 47/1, Mirzapur Street, now known as Surya Sen Street. The bulletin of the Parishad, Bangīya Musalmān Sāhitya Patrikā, was started under the joint editorship of Shahidullah and Mozammel Haq from 1918. The first number of it (i.e. April / May - November) published an article of Shahidullah, entitled Amader Samasya (Our Problems). He remained there for the third successive year. The journal published the following articles of Shahidullah; such as Kabir Sāheb O Hindudharma (1918). Śekh Habibur Rahamāner Abe Hāyāter Samālocanā (1919), Banat-su'ad (1920), Maynāmatīr Gān, edited by Nalinikanta Bhattasali (A Review) (1920). Quran Sarif O Juddhanīti (1920), Iban Batutā O Tāhār Bāngālā Bhramaņ (1920). Satyendra-smaraņe (1922).
In 1920 in the students' conference organised by the Bangiya Sahitya Parishad under the president ship of Haraprasad Sastri, he read out an article Bānglā Sāhitya O Chātrasamāj (Bengali Literature and Student Community).' 4 He said :

At the twenty-sixth session of the Parishad (May 30, 1920) he was unanimously elected as the Secretary of the student-wing of the Parishad. Abdul Gaffar Siddiqu proposed his name while Suryakanta Misra seconded the proposal.5
He edited a monthly magazine of the children, the Angur, the first of its kind among Muslims, in 1920. The Bengali journals like Sandeś, Maucāk regularly published stories based on Hindu mythology. The absence of any such publication of stories based on Quran, Hadis. etc. prompted him to redress it.6 The journal continued only for a year. Every number contained stories and fairy tales meant for children from his pen. The journal published contributions from men like Rabindranath Tagore in its first number (Rathajātra) and Nazrul Islam in its third number (Hodol Kutkuter Bijñāpaņ). Some of his writings published in this journal are : Tin Śişyer Kathā (Baiśākh, ! 327). Pariśram, a translation from Arabic poetry (do), Bidhātār Parīksa (from Hadis), pithā Gācher Kahinī (Jyaiştha), Rūpasī (A Fairy Tale from Denmark), Iśvar Jāhā Karen Bhālor Janyai Karen (From Quran and Hadis), Galpa (Aşārh), Bhelkir Majā (do), Binay (Translation from Śakuntalā) (Śrātaņ), Relgārir Janmakathā. Hajaral Lokamān (Biography) (Bhādra), Golām Bādśāh (Paus), Rostam Pāloyan (Phālgun).
BHĀŞĀ O SĀHITYA
He also produced a few books of essays on literary subjects. His first book, Bhāşā O Sāhitya (Language and Literature), which is a collection of fifteen essays written over the years and published in different journals, appeared in 1931 from Dhaka. The articles are : 1) Āmāder Bhāşā-Samasyā (Bangīya Musalmān Sāhitya Patrikā, Baiśākh 1325), 2) Āmāder Sāhityik Daridratā (Al Eslam, Jaişthya, 1323), 3) Bāngālā Sāhitya O Chātrasamāj (B.M.S.P. 1327), 4) Sāhityer Rūp (Śikhā, 1335), 5) Sāhityer Rūp (2) (Māsik Mohammadī. 1336), 5) Palli-Sāhitya (Māsik Mohammadī, 1338). 7) Āmār Kahinī Phurulo (Muslim Hall Magazine. 1333), 8) Bāngālā Abhidhāne Āmod (Naibedya, 1323), 9) Gotrabhid Indra (Naibedya, 1322), 10) Bāngālā Bānān Samasyā (Pralibhā, 1331), 11) Bāngālīr Samskrta Uccāraņ (Kohinūr, 1318), 12) Bāngālā Bhāşāy e kārer Bakra Uccāraņ (Moslem Bharat, 1327), 13) Bānglā Bhāşātattve Rabindranath (Bānglār Bānī. 1318), 14) Bhārater Sādhāraņ Bhāşā (Moslem Bharat, 1327), 15) Bāngālī Jībane Musalmān Prabhāb (Kohinūr, 1318). In its second edition (1950), the article, entitled Bāngālā Bhāşāy e kārer Bakra Uccāraņ, was replaced by another, entitled Amāder Sāhitya. Though most of the essays in this collection are quite interesting and illuminating, the one that is of considerable importance is Bānglā Bhāşātattve Rabindranath. He wrote :

The book earned much praise from Tagore and a favourable review followed by the Prabāsī. Shahidullah sent a copy to the poet. In a letter from Santiniketan on July 29, 1932, Tagore wrote :

Shahidullah was the Secretary of the East Bengal Literary Society from 1936 to 1940.
The Bangabhūmi, another monthly literary journal, was edited by him in 1937. This was a short-lived journal. To avoid unnecessary controversy, he used his name as the Director at the cover of the journal.8 The journal published the following articles of Shahidullah: Ārya-jātir Prācīn Prem-Kāhinī (1937), Jātīya Milaner Pathe, Hafiz, Laylīr Prati Majnu. His presidential address at the eleventh annual conference on May 2. 1937 was published in it.
The Takbir, another fortnightly, edited by him, was published in 1947 from Bagura. The publication was slopped after its eighteenth issue. Some of his articles, published in this journal, are : Idul Ajaha, Prācīn Bhārate Gobadh, Pūrba Pākistāner Śikşār Bhāşā-samasyā, Kārbālā Kāhanī, S"eş Nabī Sambandhe Bhavişyat-bānī, etc.
ĀMĀDER  SAMASYĀ
His another book, Āmāder Samasyā (Our Problems), a collection often essays, was published from Dhaka in 1949. The following essays are collected : 1) Āmāder Bhāşā-samasyā an abridged form of the article published in his book, Bhāşā O Sāhitya, 2) Bānglār Muslim Sāhitya O Tāhār Bāhan — a revised version of the article, entitled Sahityer Rup, printed in his book, Bhāşā O Sāhitya, 3) Sāhitye Sātnpradāyikatā (Dilruba, 1351 ). 4) Āmāder Sāhitya, 5) Pākistāner Rāştrabhāşā Samasyā (Dainik Azad. 1354). 6) Pūrba Pākistāner Śikşār Bhāşā-samasya (Takbir, 1354), 7) Sādhāraņ Śikşā O Mādrāsār Śikşa-samskār — his presidential address to the East Bengal Mādrāsa Teachers' Association held at Dhalgach of Syaidpur on May 2, 1948, 8) Bānglā Bānān O Akşar Samskār. 9) Śojā Bānglā (Dhakaprakas, 1356). 10) Ārbī Haraphe Bānglā (Dainik Azad. 1356). The book had been favourably reviewed by his contemporaries. Badruddin Umar, in his Pūrba Banger Bhāşā Āndolan O Tatkālīh Rājnīti (Volume 1), wrote

THE LANGUAGE PROBLEM OF PAKISTAN
Language had been a major issue of discussion not only among litterateurs but also among politicians even before pre-Pakistan days. In July 1947 demand was made to make Bengali the stale language of Pakistan. In his article. The Language Problem of Pakistan, published in the Weekly Comrade (Calcutta), on August 3, 1947, Shahidullah wrote:
'For Eastern Pakistan it should be Bengali, pure and simple, the common literary language of all Bengalees, irrespective of religion, cast and creed. As Bengali is the mother tongue of the majority of the inhabitants of the Pakistan Dominion, with a very rich literature, it has its own importance among the languages of the Pakistan Dominion. As in the pre-Muslim period Old Bengali owed its origin to the inspiration of the Buddhist of the Sahajayana cult, so in the Pathan period the Middle Bengali literature owed its origin and development to the liberal patronage of the Muslim Sultans and Amir.... To surrender Bengali to Urdu or Hindi as the language of the court and the University will be a shameful surrender of Bengal to outsiders which will be as bad as, if not worse than political subjugation'.4
After the partition, the political developments in East Bengal was dominated by the language question. What ought to be the language for the state of Pakistan soon became the principal issue. The members of the Peoples Freedom League (established in July 1947) demanded that Bengali should he made the state language of East Pakistan. During the first phase of the language movement, the cultural organisation founded by some students of the Dhaka University in 1947, campaigned for making Bengali the medium of education and of legal proceedings. They brought out a pamphlet on September 15, 1947 titled 'Should Pakistan's State Language be Urdu or Bengali?'
Meanwhile, an education conference had been held in Karachi on a national level where two ministers from East Pakistan were participants. After returning from the conference they informed that Urdu had been accepted as the state language of Pakistan. The most influential daily of Dhaka, the Morning News on December 5, 1947 published that Urdu had been unanimously accepted as the lingua-franca of Pakistan but no decision had been taken yet on the question of state language. That responsibility had been given to the Pakistan Constituent Assembly. Protesting against the decision of the education conference, the first of the meetings held by the students demanding Bengali as the stale language took place at the Dhaka University Campus on December 6,1947. The students of Dhaka University, Dhaka Intermediate College, Jagannath Intermediate College and of other institutions were present at this meeting.
A committee was set up by the government to resolve the issue on the national language. Shahidullah was selected as a member to this committee but he declined the offer. According to his opinion :
"The spoken languages of the Pakistan Dominion are Pushtu, Beluchi, Panjabi, Sindhi and Bengali. Of these Bengali is the most advanced and the Bengali literature has obtained a recognised position in world literature. According to the number of speakers its position is seventh among the languages of the world.... there will be no logical escape to accept Bengali as the state language of the Pakistan Dominion.'
The chairman of the East Pakistan Educational Reconstruction Committee, Ziauddin Ahmed, was in favour of Urdu as the medium of instruction in all Pakistan provinces instead of the vernacular of the province. Shahidullah criticised his views and said :
"It is a mistake to think that in a state there can be only one state language.... In Canada English and French, in Belgium, French and Flemish and in Switzerland, French, Italian and German are recognised as state languages. It will be a retrograde step lo make Urdu the sole slate language of Pakistan, in imitation of or out of revenge for the recent Congress decision in favour of Hindi....'
He further added :
'But knowing the political difficulties I am not advocating for Bengali as the state language of Pakistan.... Hence I should say, if you choose to have a second state language you may have Urdu.... I shall not go even against Arabic as a third state language, if you so like.... But the question of the state language should not be confused with the language of the courts, the Legislatures and the Universities of the Provinces under the Pakistan Dominion or any Dominion.' 11
On the occasion of the Dhaka University Convocation, Md. Ali Jinnah, in his address on March 24, 1948. declared Urdu (the language of 3.3% of the total population of Pakistan) as the state language. There was a protest against this declaration from the Bengali Intelligential as well as the politicians. The adoption of Urdu as the only national language would have imposed additional burden on the Bengali youths. They were to learn Urdu in addition to Bengali, English and Arabic. Only a very few Bengali Muslims could afford to do under their relatively poor economic condition.
Shahidullah infused in his students and through his students to others a deep love for the Bengali language and literature. While delivering the presidential address to the East Pakistan Literary Conference, held at Dhaka on December 31,1948, Shahidullah said :

'It is reality that we are Hindus and Muslims, but the greater reality is that we arc Bengalis... Mother nature has put such indelible mark on our appearance and language that no camouflage of Hindu and Muslim external markings could hide this basic reality. We need as free citizens of post-independent East Pakistan a properly developed literature covering every branch of it. Such a literature will be invariably in the mother-tongue Bengali. No nation can thrive on literature in the world written in a foreign tongue.
The Dainik Azad bitterly criticised it in its editorial on January 1, 1949. At the conference of the teachers on March 16, 1951. Shahidullah said :

'Any language, other than Bengali, imposed on East Bengal, will be vehemently resisted and may even be followed to a rising in rebellion. It amounts to a genocide to the people of East Bengal.'
In January 1952, the Prime Minister of Pakistan, Khwaja Nazimuddin, reiterated his earlier declaration that Urdu was to be the only state language of Pakistan. Police firing upon the students who were demonstrating against the decision which caused deaths to some of them, stirred up a strong Bengali feeling against the government.
Shahidullah had a positive aversion to the nasty game of politics in general. Even as an apolitical person he supported in public the just cause of the students' agitation on the language movement. He was the direct source of inspiration behind the sacrifices of youths for the retention of the Bengali language. He took pride in the fact that his students placed the Bengali language in the highest pedestal literally at the cost of their lives. His youngest son, Murtaza Bashir, had been involved in the movement. The demand for due recognition of Bengali along with Urdu as one of the state languages of Pakistan was accepted in May 1954 by the Constituent Assembly of Pakistan. Bengali is now widely used as a language of office, court and higher education. In recognition of his contribution to the language movement, Pakistan Sahitya Samsad felicitated him on the occasion of his seventy-third birth day.
URDU SCRIPT FOR BENGALI
The Central Government of Pakistan issued proposals on the question of a common script of all languages of Pakistan. The aim was mainly to promote closer integration of the people of Pakistan — East and West. The government faced an angry backlash from the people of East Pakistan, on this issue.
After liberation the stress was on introduction of the Bengali language at all levels of national life. In 1949 the language issue took a serious turn. From April 1950, twenty centres were started by the Central Education Office in various districts of East Bengal to give primary education to adults in Arabic scripts. The Central Government sanctioned Rs. 35000/= for the education of adults in 1949 and next year the amount was increased to
Rs. 67764/=. The whole amount was spent in East Bengal to introduce the project of introducing Arabic script for the Bengali language.l2  A list of Bengali reference books was prepared which were to be printed in Arabic script at the expense of Central Government. Announcement was made on behalf of the Central Government that awards would be given to those who wrote Bengali books in Arabic scripts.
Shahidullah, the member of the East Bengal Language Reform Committee, commented against attempts to leach Bengali in Arabic script. In his address to the East Pakistan Literary Conference, held at Dhaka on December 31,1 948, Shahidullah said :

The East Bengal Language Committee, under the presidentship of Maulana Akram Khan, declared in a report that attempts to introduce the Bengali language in Arabic Script must be slopped for at least next twenty years. In his article, Urdu Script for Bengali, published in the Pakistan Observer, on February 5, 1952, Shahidullah wrote:
'The question of the state language for which I, as President of the East Bengal Arabic Association hold a definite view well-known to the public should not be mixed up with the question of the script of regional languages. When Persian was the state language, Bengali was written with the Bengali script. It was so during the British period when English became the state language of the country. The script question should be considered from the point of view of its scientific accuracy, its suitability for short hand, type writing, printing and rapid writing, and also the sentiment of the people in general who are expected to use it.... I myself have written against the Arabic (Urdu) script for the Bengali language in my booklet Āmāder Samasyā (our problems)... one is bound to accept the logical conclusion that is a highly controversial matter. But the removal of illiteracy is an essential thing and, at the same time, a universally accepted primary duty of the government. For running 21 adult education centres for teaching Bengali in Arabic script the Central Government had to spend Rs. 130500/- in two years and a half. This huge amount if used for teaching Bengali in the Bengali script, could have surely shown hundred times better result.'
By the 1956 constitution Bengali was given the status of one of the state languages, exactly as the demand had been. Moreover, establishment of the Bangla Academy and the Central Board for the Development of Bengali gave considerable satisfaction for the Bengali scholars. [Ataur Rahman, in his article The Language Movement and Bengali Nationalism, wrote :
'Arguably, the Language Movement of 1948-1952 was a milestone in the growing demand for cultural self-determination of the Bengalis in Pakistan. It helped to fix their perceptions towards the immigrant North Indian and West Pakistani elite and led to the growth of an increased assertiveness among them about their cultural identity.]
Shahidullah was the most important person among the founders of the Bangla Academy, Dhaka. He was the first to call it an Academy. In his History of the Bangla Academy, Bashir Alhelal, wrote:

The Bangla Academy appointed him as a full-fledged employee of it from 1960 to 1967. He was the life member of the Bangla Academy and was associated with the Central Board for Development of Bengali from 1963 to 1967. On the occasion of his eightieth birthday on July 25, 1965 he was felicitated by the Academy. The following articles were published in the journal of the Bangla Academy, viz, Samāj O Samskār (1363), Galper Jammāntar (1365). Hind-Ārya Mulbhāsā O Ādim Prākrt (1367). Bānglā Bhāşār Dhvani O Samskār (1367), Pūrba Pakistanī Bānglār Ādarśa Abhidhān: Bhūmika (1368). Bānglā Lipi O Bānān Samskār (Read at the meeting of the Academy on September 29, 1963).
Shahidullah became the founder-member of Asiatic Society of Pakistan in 1951. On the occasion of his eightieth birthday, the Asiatic Society of Pakistan felicitated him. In its publication, Muhammad Shahidullah Felicitation Volume, the editor, Md. Enamul Haque, wrote :
"Over a long period of half a century he has been exerting his intellectual influence on the last three generations of our country. The nation cannot forget him and the country cannot deny his service to her citizens.
Traditional Culture in East Pakistan, a survey under the auspices of UNESCO with co-author Abdul Hai, was published from the Department of Bengali, University of Dhaka, in 1963. The following six chapters were written by Shahidullah : Chapter 1 : Introduction : Traditional Culture in East Pakistan, Chapter 3 : Folk Dances, Chapter 4 : Folk Music, Chapter 5 : Folk Arts, Chapter 6 : Crafts and Chapter 8 : Importance of Traditional Culture in life of the communities and its preservation and revitalization. The following two chapters were written by Hai : Folk Song and Folk Literature and Indigenous Games and Sports.
A poem in translation is always another version, another culture, a distinct deviation from the original. Translation often fails lo convey the suggestive, evocative power of words, all the original nuances. The cardinal rule for translation is that the translator should keep as close as possible to the original. Yet the result must not read like a literal translation, hut like an original work of literature. The elegance of the original poem is obviously difficult to transcreate in any form.
Shahidullah's translations of Hafiz (Dioan-i-Hafiz, Dhaka, 1938), Iqbal (Sikoyah O Jawab-i-Sikoah, Dhaka, 1942) and Umar Khayyam (Rubaiyat-i-Umar Khayyam. Dhaka. 1942 ) deserve recognition for their individual merits in translation, literary criticism and research. Me tried to keep as close as possible to the rhythm of the original poems. But in the process, he often picked up the words that rhyme well over words which might have conveyed the meaning more accurately. Thus in quite a few cases, poems have lost their spirit; their true import. Take, for example, the poem of Hafiz :

Embedded in the rich variety of subject-matter, Iqbal's poems throw light into the poet's thoughts, ideas, feelings, sense of values and above all, personality. The plain sense of his poems is not hard to arrive at but the musicality of his poem goes after translation. Take, for instance, :

The lexical meaning of the words in a poem is one meaning, what is carried by the How. is another. The latter is a poem's sweetness; it is a gift of the architecture of sound; it is the sensibility of the living thing. It is ignored at a translator's peril.
Malik Muhammad of Jaisi wrote his famous Hindi romance Padumavati in 1540 and it was translated into Bengali by Alaol, a Sufi poet in the court of Arrakan. Alaol was a good scholar. His knowledge of Persian poetry was deep and of Sanskrit lore adequate. But as a writer Alaol shows less facility and ingenuity than his predecessor, Daulat Kazi. probably the first Bengali poet who wrote under the oegis of the Arrakan court. Alaol appears to be the first Bengali writer to translate from Persian poetry. His good knowledge of several languages, such as Sanskrit, Bengali, Avadhi and Persian, gave a distinction to his style.
According to Shahidullah, Malik Muhammad Jaisi wrote his Padumabati during the reign of Ser Sah. In the article, Malik Muhammad Jaysi O Tāhār Padmābatī, published in the Dilruba( 1949). he wrote :

According to Shahidullah, Alaol translated it during the reign of Thadominta, king of Arrakan (1645-1652). He wrote:

Sukumar Sen, in his History of Bengali Literature, wrote that Magan Thakur, the foster-son of the sister of Sricandra Sudharma (reign 1652-1684) and co-regent of Arrakan, was inclined towards Sufism and was an admirer of Jaisi's poetry. He requested Alaol to render Jaisi's Padumabali into Bengali verse so that it might be readily appreciated by the men of Arrakan.14
In the article. Kabi Syaid Alāoler Padmābatī published in the journal of the Parishad, he wrote :

According to Shahidullah, Alaol was the son of a minister of Majlim Kutub, Governor of Fatehabad. Shahidullah further added a new concept, the influence of Gonsalves. He wrote :

According to his opinion, Alaol was born in 1592, and translated it in 1646. This opinion was rejected by Abdul Karim Sāhitya Bisarad.15 This view was appreciated by Ali Ahsan. He said :

According to Abdul Karim Sāhitya Bisarad and Enamul Haq, Alaol was born in Zobra village of Hathazari in Chittagong. Shahidullah opined that Alaol was born in Jalalpur of Fatehabad, in the Faridpur district.
Shahidullah published the bibliography of Alaol (Syaid Ālāoler Granthābalīr Kāl-nirņay) in the journal of the Parishad in 1 925. l7 The same number also printed an analytical study of his views by Abdul Gaffar Siddiqi and Bisvesvar Bhattacharya. His edition of Alaol's  Padmabatī (Dhaka, 1 950) covered a thorough discussion on the sources of the poem, Alaol's life and an evaluation of the literary merit of the text. In its Introduction he wrote :

The stories of Padmabati, as were given by Jaisi and Alaol, were discussed by Shahidullah.
Alaol's translation is neither complete nor wholly faithful. A number of instances are shown by Shahidullah. In Hindi, we have

Another reading :  

The revised and enlarged edition of Padmabatī (Dhaka 1969) was dedicated to the memory of Enamul Haq. A collection of obsolete words is included in the Appendix. In the Introduction of revised edition, he wrote :

Vidyapati was one of the best known poets of early New Indo-Aryan literature. A collection of his hundred couplets was translated and edited by him in his Vidyapāti-śataku (Dhaka 1954).18 The book was dedicated to the memory of Haraprasad Sastri. In its Preface. Shahidullah wrote :

The work is enriched by a detailed introduction, which is divided into three parts : 1) Vidyāpati, 2) Vidyāpatir Śuddha Pad O Bhāşā (The Original Verse and Language of Vidyāpati) and 3) Maithili Byākaraņ (Maithili Grammar). In the first part of his Introduction, he tried to point out the exact date of Vidyapati. According to his opinion, Vidyapati was born in 1354. In his another article, The Date of Vidyāpati. published in the Indian Historical Quarterly, he wrote that Vidyapati was in the period between 1290 and 1490. In his Vidyāpati-śataka. he wrote :

According to his opinion, this Bengali Vidyāpati, named by him as Kabisekhar Vidyāpati, was alive during the reign of Nasiruddin Nusral Shah (1519-1 533). He established his text with the help of the following : 1) Vidyāpatir Padābalī edited by Nagendranath Gupta; 2) Vidyāpatir Padābalī edited by Khagendranath Mitra and Bimanbihari Majumdar; 3) Ragataranginī by Locan (1702); 4) Maithili Vidyāpati-Biśaddha-Padābalī edited by Sibanandan Thakur; 5) Vidyāpati Ki Padabalī edited by Rambrkşa Śarma Benipuri; 6) Śrīśnpadakalpalaru edited by Satischandra Ray; 7) A unpublished Padaratnābalī edited by Satischandra Ray; 8) A Chrestomathy of the Maithili Language : G. A. Grierson. By comparing all these works he explored the concept of the poems. Take, for instance, from the collections of Grierson :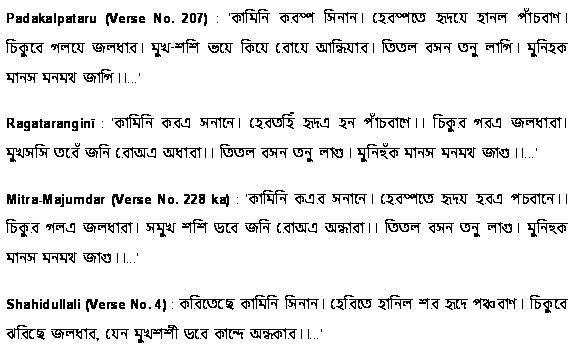 Over the years Shahidullah had distinguished himself in almost all possible sphere of literary writing, fie believed that a literary work ought to carry a message to the masses. He gathered random facts from life and presents them in a journalistic style lo sketch the social history of his country and time. He wrote short stories but the intensely Bengali flavour in his stories (both in terms of language and social context), one felt, could not be shared with people who had no familiarity with Bengali culture. The thirteen stories in the collection, Rakamāri (Dhaka, 1932), can he described simply as ordinary. He was the co-editor with Ali Ahsan of a collection of short stories, Galpa sancayan (Dhaka, 1 953). In its Introduction, he made a discussion on the evolution of Bengali short stories.
Shahidullah next turns to fables of antiquity. The earliest fables explain some feature of an animal (e.g., why crows are black) and establish certain animal characteristics (the fox as sly, the lion as dignified). Later fables, the product of a more sophisticated culture, use animals to teach a moral lesson or to satirise human follies. The earliest extant fables come from Greece and India, the oldest Western examples being the fables of Aeshop, and the oldest Oriental collection the Pancatantra. Whether Aeshop is indebted to the Indian tradition is a matter of conjecture. Shahidullah, in his articles, Galper Janmāntar (Bangla Akademir Patrika, 1 365; Galper Rūpāntar, Samakāl, 1366) however, pointed out that these fables were taken from Indian sources. The Pancatantra is a collection of fables in Sanskrit (C. 300-500 A.D.). The work is enclosed in a frame-tale about a king who despaired of educating his three stupid and idle sons, until he finally found a Brahmin who taught them wisdom through the fables of the Pancatantra. There is no way of dating the collection beyond the fact that it was translated into Pahlavi (a literary language of Persia) by order of a king who died in 579 A.D. . From the Persian version the tales were translated into Syriac and Arabic and the Arabs apparently brought them into Spain. They also entered Europe by way of Constantinople, so that the medieval beast-epic — and consequently most modern fables — derives ultimately from the Indian tradition. The Jātaka, a collection of stories, about Buddha's earlier incarnations, contains fables, fairy tales and moral tales. More than half the stories are found in other Indian collections, such as the Pancatantra. Shahidullah, in his article, Galper Janmāntar, commented :

Hindus, Buddhists and Jains believe in the life hereafter. Jewish, Christians and Muslims do not believe in it. Here I cite an instance of the history of a fable...
One of the lesser-known aspects of his varied activities is his devotion to poetry. His poetical works, however, remain unpublished. Some of his poems have been incorporated in the commemoration volume : such as Adhyabasāy (Determination) (translation from Mudrārākşas); Unnati (Prosperity) (translation from Alif Layla); Nirbhar (Excessive) (translation from Masnabhi); Pākistān Dibas (Pakistan Day) (August 14, 1962); Binay (Training) (translation from Abhijñān-Śakuntalam) etc. . Some were published in different journals such as Kabi O Bhrānta Mānab (Poet and The Mistaken Man) (Al Islam, 1916), Jibaner Laksva O Pariņati (Aim and Maturity of Life) (Al Islam, 1916), Satyendra-smaraņe (In Memory of Satyendranath Dana) (Bangiya Musalman Sahitya Patrika, 1922), etc.. The poems are not so significant, both in terms of quality and influence. They aroused little interest in the literary circle. Nonetheless, these poems help us understand the ideas that shaped the mind of the poet. Take, for instance,

In 1956 he went to China. On his way from Sanhai to Cantan by ship he wrote a poem in Bengali, named 'Nabya Chīn'. It was published in a journal at Dhaka and its English translation was published in a Chinese journal.
Shahidullah never discontinued writing essays on various topics. His essays, whatever may be their subject-matter, belong more to the critical analysis than to creative art. They comprise literary appreciation and criticism, social problems, political dilemma, philosophy and religion. Enamul Haq wrote : "writing is one of his habits and preaching of Islam is another. His main aim of life is to attain perfection through acquisition of knowledge both spiritual and mundane'. His educational, social, economic and political beliefs were all coloured by his deep religious faith. His father was a devoted Muslim of Khadem heritage. From him he imbibed his deep sense of the unity of life. He believed that religion is the highest value of life because it emphasises unity and love for all beings. His religion was thus an essential part of his being and influenced every aspect of life.
FOOT NOTE